JNW Transport
PRIVATE TRANSPORT WITH DRIVER
Sometimes people, in order to have the control of their itinerary, prefer to rent a car during their stay. The thing is, most of the time, they don't take into account the driving distances and roads conditions.
The advantages of booking private transfers are many. For example, when you book a private transfer to move from one destination to another, you don't have to worry about nothing more than to enjoy the ride. You don't have to worry about schedules, distances, or the weather conditions in route; and you will still have the control of the journey and the possibility to ask for stops to take photos or enjoy a meal in the middle of the trip.
JNW Lanka Tours offers private ground transportation to and from any destination in Sri Lanka, regardless the number of people. These private transfers can be schedule anytime, from any hotel, airport, restaurant, etc… Besides, all the vehicles used for these private services are air conditioned and driven by trustworthy, English-speaking drivers.
| Transport Only Package (from Colombo/Airport) | Car 01 to 03 Pax | Van 04 to 06 Pax | Van 07 to 09 Pax | Mini – Bus 10 to 15 Pax | Bus 16 to 32 Pax |
| --- | --- | --- | --- | --- | --- |
| Half Day (04 Hours) – – Based maximum 50km | USD.35.00 | USD.35.00 | USD.50.00 | N/A | N/A |
| Excess Km will be charge at | N/A | N/A | N/A | N/A | N/A |
| | | | | | |
| Full Day (Business purpose – 08 Hours) – Based maximum 100km | USD.70.00 | USD.70.00 | USD.100.00 | N/A | N/A |
| Excess Km will be charge (Per km) | USD.00.35 | USD.00.35 | USD.00.50 | N/A | N/A |
| | | | | | |
| Day Excursions – (Tourist Purpose) (Kandy & Back / Galle & Back / Sigiriya & Back) | USD.125.00 | USD.125.00 | USD.150.00 | USD.235.00 | USD.300.00 |
| Excess Km will be charge (Per km) | N/A | N/A | N/A | N/A | N/A |
| | | | | | |
| 02 to 05 Days – based 550km for 05 days (Maximum 110km limit per day) | USD.60.00 | USD.60.00 | USD.80.00 | USD.110.00 | USD.140.00 |
| Excess Km will be charge (Per km) | USD.00.35 | USD.00.35 | USD.00.50 | USD.00.70 | USD.01.00 |
| | | | | | |
| 06 Days and above – based 750km for 06 days (Maximum 125km limit per day) | USD.55.00 | USD.55.00 | USD.75.00 | USD.105.00 | USD.135.00 |
| Excess Km will be charge (Per km) | USD.00.35 | USD.00.35 | USD.00.50 | USD.00.70 | USD.01.00 |
| | | | | | |
Toll Fee Not Included: If expressway used USD.3 for vehicles up to 9 seats, USD.6 for vehicles with more than 9 seats & USD.12 for vehicles more than 16 seats charges will apply for the full length of the expressway (i.e. Kottawa- Galle).
Above quote is Per Vehicle, Per Day Basis and are non-commissionable (NET). Rates are also inclusive of prevailing Tax.
All quoted rates are in US Dollars includes gasoline & drivers meals. / Vehicle types (all with Air-condition).
All vehicles with BASIC INSURANCE COVER including the Driver, Passengers and third party damage with 'Car Rental Fleet' cover. However It is highly recommended that client bring their own insurance, as the local Insurance for accidental damage covered maximum of LKR.100,000 on death.
The meter will be shown to the client daily, morning and evening and will have to be read clearly and the meter reading will have to be initiated by the client in the log sheet. This will avoid any confusion about extra kilometers done during the client's trip. If there are any extra kilometers will be charged as per the rates mentioned in above chart.
The client has the choice of getting him-or herself dropped at any selected location on the last day and the chauffeur will continue to Colombo. The kilometers calculated accordingly, considering the last destination as Colombo. Distance are calculated on a cumulative basis for the hire (i.e. 550km for 5 days).
The number of days of a hire are calculated on a 'calendar day' basis and not on 24 hour cycles.
Rate includes gasoline, drivers allowance for food (tips are not included as it is at the discretion of the client who may tip in accordance with the driver's performance and customer satisfaction).
For overnight stays of the driver: In case that the hotels, you are staying does not have free drivers quarters you will have to pay US $ 8 directly to the driver (Car/Van) to arrange his own accommodation. If it's a mini coach or a large coach you will have to pay US $ 16 for the driver & the coach assistant.
Optional Extras: Child Car Seats, Road Maps, Mobile Sim Cards, Cool Boxes etc. are available on request.
BOOKING / PAYMENTS:
You can make a confirmed booking via e-mail and make payments on arrival. We may ask for a token advance prior to arrival during peak season. We accept foreign currency (LKR/USD/EUR/GBP) at prevailing rate of the Authorized Money Exchange Establishments. MASTER or VISA subjected to 5% Facilitation Fee. However, Credit Card payments accepted only at our Head office in Colombo.
SELF DRIVE
The client will take full responsibility for the custody of the vehicle and for its due maintenance and protection from loss or damage of any form. The client shall return the vehicle in the same condition as at the time of taking the vehicle except for normal wear and tare.
Driver's minimum age 25 years and maximum age 65 years .
Airport Pick-up and Transfer service
1. Privet Car / Van
A privet car just for you. quickest way to get going.

---
2. Van / Mini Bus / Micro Bus
For large families or parties who want their own personal transfer without sharing with other.

---
WE ARE HAPPY TO WELCOME OUR VALUED VIP GUESTS ON ARRIVAL BY PAGING
THEIR NAME AT THE AIRPORT ARRIVAL LOBBY.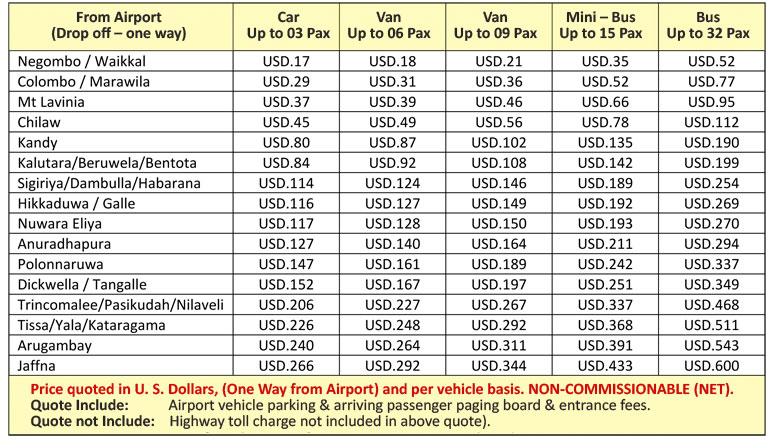 You must order a suitable vehicle size for the number of passengers & luggage.
JNW LANKA TOURS cannot guarantee to carry excessive luggage.
Please note that a child, no matter what age, counts as one passenger.
Inquire Now